You have to connect the dots.
We provide the critical links between theory and reality. Here is just a short list of the services we provide to get and keep your system on track:
General
•Design all workflow forms

•Educate leaders

•Educate committee members

•Facilitate inter-committee functioning

•In-service presentations

•Newsletter

•Document performance improvement from peer review

•Educate, facilitate use of peer review in credentialing

•Assure continuous JCAHO readiness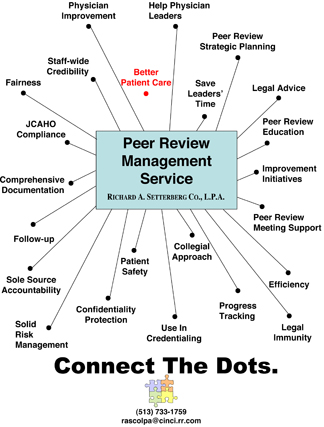 Pre-Meeting
•Educate screener

•Assist screener

•Locate a screener if necessary

•Check screener output

•Assure file delivery
Meetings
•Assist and advise leaders

•Assist in calling, arranging meetings

•Interface with members on file input

•Meeting agenda

•Meeting minutes

•Assistance at meetings

•Recommend, obtain outside reviewer where approved
Post-meeting
•Prepare letters

•Prepare talking points

•Ensure follow-up

•Track action items

•On-site files management

•Reports to MEC as needed

•Feed results to credentialing files

•Feed results to QA programs
At the MEC

•Explain recommendations

•Advise on alternatives
•Help refine screens


What's the result? Click
here
.